Technical ceramics, used for insulators and industrial applications (whether they are high-performance mechanical, aeronautical or biomedical), are assembled in multi-station systems.
The screw conveyor is a fundamental part in the phase of the extrusion of the dough towards the output chain which will give the final shape of the piece to be produced.
In a single-screw extruder, the cylinder containing the screw conveyor is the key element for transporting the mixed material intended for modeling. Thanks to the principle of the worm screw, the rotation of the screw conveyor allows the material to be compressed and pushed through its spirals.
The elements that are difficult to manage in the system are given by friction, compression and chemical phenomena that develop between the transported mixture and the surfaces of contact.
The technological challenge for FILMS was to identify the most suitable grade of hard metal for the application and to create an integral element of considerable size, which at the same time guaranteed very high performance in terms of wear resistance.
The photo with our operator gives a concrete idea of weight and length. Up to 614 mm in length, for a diameter of over 90 mm and an approximate weight of 50 kg.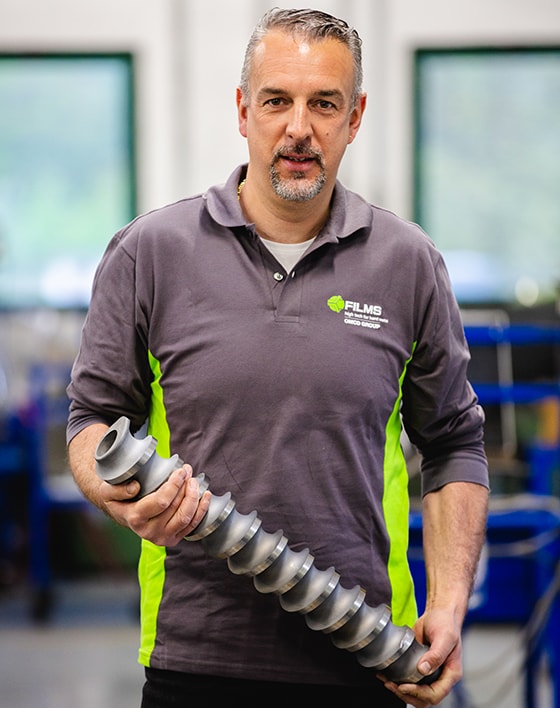 The resources allocated to the feasibility analysis and the considerable production effort are highly compensated for by the results obtained, primarily customer satisfaction, to which FILMS guarantees a significant reduction in the expected time between one system shutdown and the next.