The EURO PM, the most important European Congress on Powder Metallurgy (PM), was held again this year. It was organized as usual by the EPMA (European Association of Powder Metallurgy) from 5 to 7 October and was held for the first time in virtual mode. To help contain the Coronavirus widespread and to ensure safety, participants were given the opportunity to access technical sessions remotely live or on demand. At the end of each session, some conference calls were activated to allow delegates to interact directly with the authors of the presentations.
Despite digitalization the formula of the EURO PM2020, which has been consolidated over the years, remained the same. During the three-day event technical presentations and seminars on the latest developments in Powder Metallurgy were disclosed, which attracted the attention of the leaders of the sector.
The more than 180 technical documents presented in oral sessions and posters and the 13 in-depth seminars focused mainly on:
Additive Manufacturing
Environment and Sustainability
Functional Materials
Hard Materials and Diamond Tools
Hot Isostatic Pressing
Metal Injection Moulding
Materials and Processes for Specific ApplicationsPressing & Sintering
This year as well, OMCD Group had the honor of actively participating in the congress with a presentation by Dr. Gian Pietro De Gaudenzi of a study carried out in collaboration with his HI.Lab colleagues, Mattia Garabelli and Sandra Tedeschi, and supported by Professor Benedetto Bozzini of the Polytechnic of Milan. The key theme of their statement was molybdenum and its role as an additive in Hard Metal metallic binder.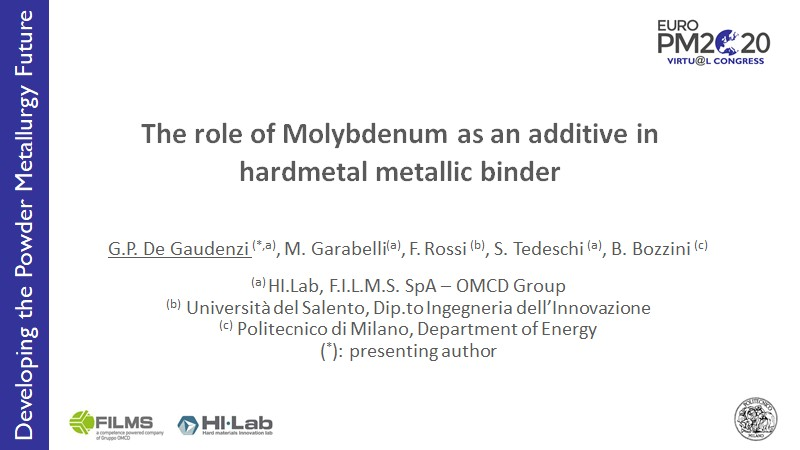 At the end of the event, Dr De Gaudenzi commented on this fully digitized edition of the conference:
"Despite the difficulties faced this year by the research world, especially in the academic world, which have led to a reduction in the number of works produced by European universities, the conference has maintained the usual level, with statements that have allowed delegates to update and discuss the most current issues concerning the development of Powder Metallurgy and, in particular, high-performance materials, such as tungsten-based ones, in which the OMCD Group is specialized."
The EURO PM is the most important event for the international Powder Metallurgy community. It is a source of great pride, for our whole group, that once again we have been called to take part in it as speakers presenting a statement.
We thank the HI.Lab staff that in this complex 2020 has helped elevate our name, in an international context, giving it a wide resonance.