The international Rule ISO 14001 is a tool which companies may voluntarily apply for to improve their environmental performances.
It also provides the guidelines to develop an Environmental Management System (EMS), allowing companies to setup an Environmental Policy and establish goals based on the applicable laws and regulations.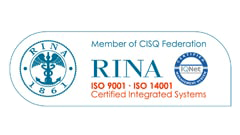 Based on such guidelines and the programs defined by the company Management, from Novembre 2013 CELSIA completed the UNI EN ISO 14001:2001 certification procedures also for the production plants and activities of electrical contacts, sintering components and brazing alloys – Silver Galvanization – dangerous and not dangerous waste storage.
These activities are in addition to those already certified in 2012, such as storage and recycling of ferrous and non ferrous metals, scraps and waste and transportation of dangerous and not dangerous waste on behalf of third parties.
The company Management has decided to follow this course of action for the following reasons:
Company evolution/future vision.
Marketing and company image.
Transmit transparency (in house and to the concerned parties).
Win a new market share.
Drive the market.
Spread environmental awareness inside and outside the company.
Check and maintain the company's health.