Electrical Contacts with copper-chromium (CuCr) sintered parts are being used increasingly more in the medium voltage (MV) sector. Vacuum interrupters (VI), in which the electrical contacts are used, are gradually replacing the larger, less environmentally friendly and less performing SF6 gas switches on the market.
In the last few years Celsia has developed a production line specifically dedicated to copper-chrome (CuCr) materials. It excels on the market due to being of the highest quality with high density, having an excellent distribution of chromium and few gas residues.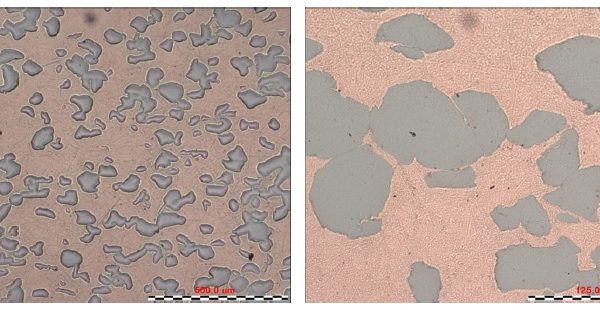 Analysis carried out by the University of Science and Technology (AGH) in Krakow as part of a study on the combined fabrication mode (sintering and pressing) of Celsia.
The widespread diffusion of copper-chrome (CuCr) Electrical Contacts is mainly due to the perfect combination of two materials. Each material has considerable benefits: copper ensures excellent electrical and thermal conductivity that optimizes the flow of currents, chromium increases resistance to erosion, and helps to keep the vacuum high in the vacuum interrupters by capturing any gases released during the interruption process.
Compared to the classic and more widespread fusion, sintering makes the current flow more uniform and therefore optimal, thus avoiding arc erosion and Late Breakdown (LBD) phenomena. Celsia is also able to combine sintering and pressing in a single process, thus lowering production costs and obtaining a denser material that offers maximum electrical and thermal conductivity.
A union that results in exceptional performance:
 Mechanical strength
 Arc erosion resistance
 Thermal and electrical conductivity
 Breaking capacity of up to 63 kA
 Low gas content
 Low dissipation of short-circuit currents
By combining different materials in different percentages, Celsia is able to create the copper-chrome composition that best suits your application. Our technicians will be happy to give you more information and to assist you in the design and selection of the most appropriate material.